Rick's Office Band is a Blues and Rock Cover Band with a soft edge hailing from the western suburbs of Philadelphia. The five members of R.O.B. came together in 2017 by chance through mutual connections in the Downingtown, PA area. Each of band members diverse musical influence lead to the creation of interesting set lists not typically heard in most cover bands. The band's focus on musical dynamics and "space" allow the vocals of Amy and Russ to shine through, while leaving room for tasteful guitar leads.
The band's sound is influenced by contributions from each of the band members, ranging from blues, country, southern rock, classic rock and even an little funk. Although Rick's Office Band started in the bar scene, the band now prefers to play the local festivals and community events. Besides having better hours, the ability to connect with neighbors, friends, families, and others who do not normally patronize the bar scene, is rewarding. And there is nothing like playing outdoors on a warm summer evening. Rick's Office Band can be seen regularly at Phoenixville and Spring City summer events, but is also looking to expand to neighboring areas. For more information, visit Ricks Office Band on Facebook or visit our website at www.RicksOfficeBand.com. Inquiries can be directed to RicksOfficeBand@comcast.net.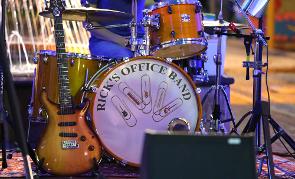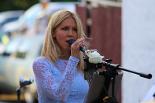 Amy, on lead vocals, has a powerful voice that fronts the band. Think of a cross between Stevie Nicks and Adelle. Amy's voice commands your attention with each song she delivers.
Russ, on lead vocals and guitar, adds a Springsteen flavor to the lead vocals and harmonies, while adding flavor and texture to the guitars. Russ also shares lead guitar duties with Doug.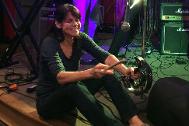 Lauren, on drums, is the heart of Rick's Office Band. She brings a natural rhythm to the music along with a light touch. She is very dynamic behind the drums and very entertaining to watch.
Dave, on bass, brings a drummer's perspective to the bass guitar and forms a tight rhythm section with Lauren. A student of music, Dave brings the most eclectic musical influence to the band.


Doug, on lead guitar, brings a southern influence to the band, where melodic leads are influenced by the slow hands of blues legends and the force of southern rock guitarists.